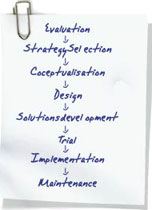 Every business effort strives to respond to customer demands quickly, get products to market faster, increase overall profitability, and consistently outperform the competition. Agility, the ability to meet these common market challenges, is dependent on a solid business application technology platform. To achieve business agility, you need a sophisticated, intelligent software infrastructure designed for application integration.
Chhabra & Co. delivery Model ensure Speed delivery of enterprise application to all corners of the organization
Provide flexibility through integrating and extending core business processes to anyone, anywhere


mprove effectiveness and productivity throughout the business without increasing resources or cost
Chhabra & Co. Solutions are most flexible, reliable, will help you differentiate your business and sustain competitive advantage. Chhabra & Co. delivery model lets you develop, deploy, integrate, and manage business applications more efficiently, ensuring faster return on investment. It delivers unparalleled flexibility so that you can leverage existing technology, quickly adapt to new technology, easily connect with customers, partners, and suppliers, and rapidly adapt as market and business requirements change. Chhabra & Co. provides your surest path to long-term success.